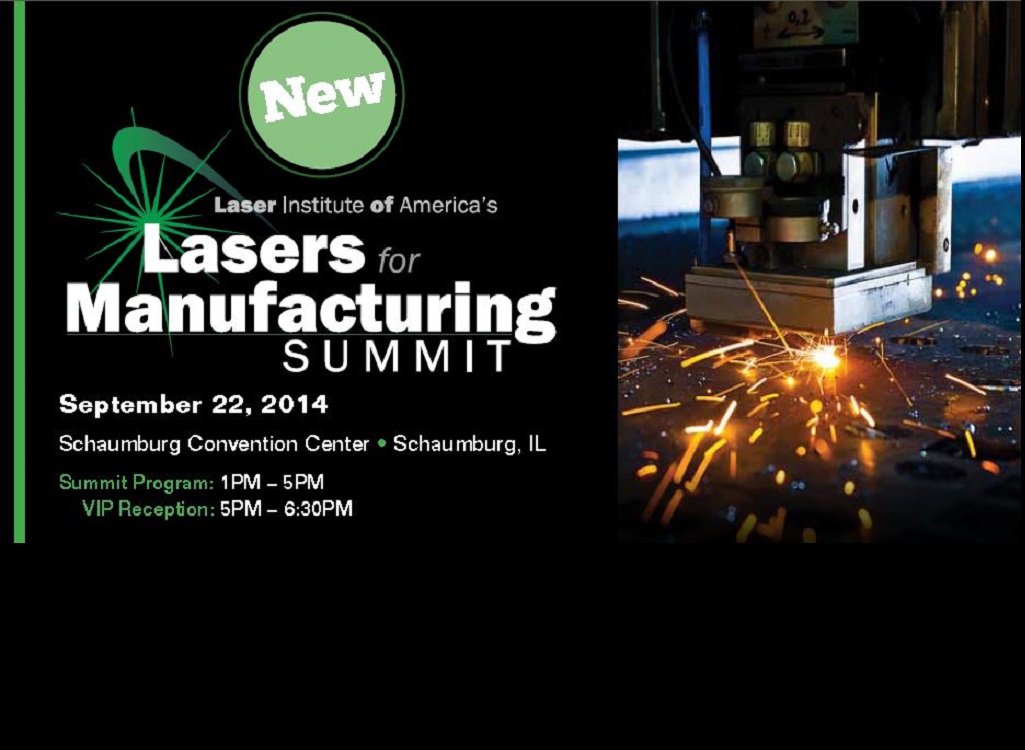 ORLANDO, FL, Aug. 5, 2014 — To arm manufacturing executives with the information they need to profit from laser-driven production in the 21st century, the Laser Institute of America is bringing out some big guns for its first Lasers for Manufacturing Summit on Sept. 22 at the Schaumburg Convention Center in Schaumburg, IL.
On tap to present at the summit are Mark Douglass of Longbow Research, renowned additive manufacturing expert Terry Wohlers, as well as representatives from GE Global Research and TRUMPF. The event will close with a laser manufacturing forum moderated by LIA Past President David Belforte, editor-in-chief of summit media premier partner Industrial Laser Solutions magazine.
Kicking off the intimate high-level briefing around 1pm will be Douglass, who will give an overview of industrial laser markets. Wohlers will follow with a 40-minute presentation on the current state of laser additive manufacturing. After a break, James Yang from GE Global Research will discuss additive manufacturing opportunities and challenges at GE, and TRUMPF's Sascha Weiler will address applications for ultrafast lasers.
"I plan on presenting an update on global economic trends, bringing it down to an end-market level and trying to tie it to an outlook for industrial lasers," Douglass says. "It seems like the opportunity to network with industry representatives and hear about the latest trends in laser markets and products is of value not only for suppliers and end users of lasers, but also investors."
Wohlers intends to address "how AM has reached the tipping point, with some of the largest companies and brands entering the business (as well as) growth trends and advances in metal AM, new generation developments that combine additive and subtractive methods, and the importance of design and redesign to take advantage of AM for production applications." Having given a keynote address at LIA's Laser Additive Manufacturing (LAM®) Workshop in 2012, Wohlers attests that "LIA has a strong reputation for conducting high-quality events." In July, he served as the kick-off speaker at a White House conference addressing the opportunities and challenges of additive manufacturing for military and defense applications.
Capping the summit will be a one-hour panel discussion led by Belforte, whose keynote presentations have become a standing-room-only staple at LIA's Lasers for Manufacturing Event® (LME®), which follows the summit at the same venue Sept. 23-24. His exhaustive research on the most lucrative laser markets in industries around the world is a window into the ever-growing opportunities for building business with photonic technology.
Following the summit will be a 90-minute VIP reception allowing attendees to ask follow-up questions and share concerns with their peers.
The summit is intended to help executives "conquer their competition, their challenges and any fears about industrial lasers," says LIA Executive Director Peter Baker. After this intensive workshop, executives will be armed with broad knowledge on how to use laser technology for a host of applications and how to build business with that technology. Summit attendees and their staff can then learn more specifics by attending LME, which will feature brief presentations on current laser manufacturing solutions by top-tier companies exhibiting at the conference.
"Inviting management-level attendees and exposing them to the benefits of industrial laser material processing so they will be knowledgeable when internal requests for this technology are made is a concept that works," Belforte says. Experts during the panel discussion "will be encouraged to speak to the economic and technical benefits that can result from incorporating this technology. And then they can walk the exhibit floor and see working examples of this technology."
Mark Taggart, president of Laser Mechanisms and longtime supporter of LME, echoes the idea that LME is a "one-stop trade show experience, with all the suppliers and technology in one room." The summit provides "the additional draw of decision makers to the event; it will provide a forum for the interactive exchange of ideas between suppliers and end users. The common theme is that there is a steady flow of customers who want to utilize lasers in their manufacturing or processing."
The Lasers for Manufacturing Summit is tailored specifically to presidents, CEOs, COOs, chief technology officers, R&D managers, business development directors, technology analysts and sales and marketing executives. Visit www.lia.org/lasersummit for updates and more information.
About LIA
The Laser Institute of America (LIA) is the professional society for laser applications and safety serving the industrial, educational, medical, research and government communities throughout the world since 1968.www.lia.org, 13501 Ingenuity Drive, Ste 128, Orlando, FL 32826, +1.407.380.1553.
 ###