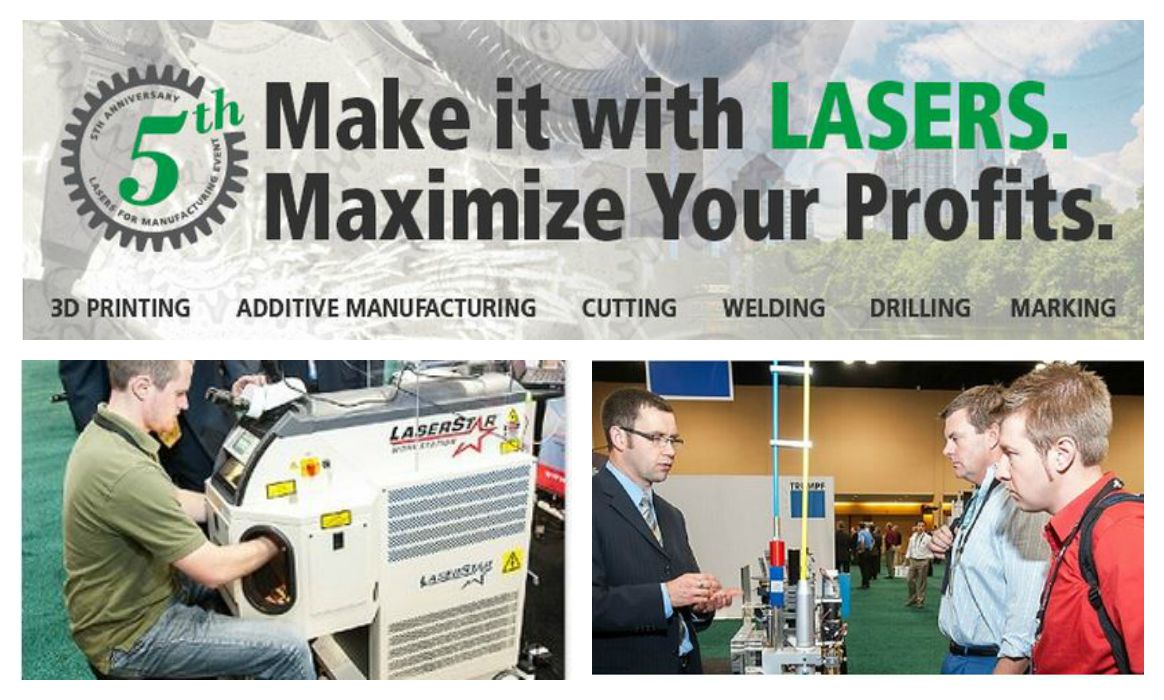 By Geoff Giordano
Advanced manufacturing with lasers will be showcased at the Laser Institute of America's fifth Lasers for Manufacturing Event® (LME®) held at the Cobb Galleria Centre April 26-27 in Atlanta, Georgia — a hub of U.S. automotive, aerospace, heavy equipment and metal fabrication activity.
The move of LME to the Southeast from its former home in Schaumburg, IL, "is intended to bring this unique lasers-only event closer to a new group of manufacturers who stand to benefit greatly from the real-world market information we provide — in an environment exclusively populated by top-tier laser equipment suppliers and customers who are ready to buy," explained LIA Executive Director Peter Baker.
Longtime laser industry consultant Rob Mueller, who has overseen the LME Ask the Expert booth, is spearheading the educational program. LME offers several tracks, from entry-level presentations and overview tutorials to more advanced topics and selected keynote addresses.
The array of laser manufacturing topics for LME 2016 is scheduled to include:
Beam delivery concepts including M-squared, beam parameter product, spot size and what they all mean to the laser user.
The state-of-the art in laser marking, a particularly robust market segment.
Advances in laser cutting — for example, what 1 micron lasers are capable of doing in deep-cutting applications.
Applications for laser micromachining.
The fundamentals of laser welding.
Tutorials on laser-based additive manufacturing, as well as process monitoring and quality control.
Keynotes including the traditional industrial laser market overview by past LIA President David Belforte, as well as state-of-the industry talks on direct-to-metal 3D printing and laser applications in automotive manufacturing.
The long-standing "101-level" courses on types of lasers and laser systems, the safe use of those lasers and the economic justification for using lasers.
LME offers numerous opportunities for unfettered access to major laser industry players, including representatives from Laser Mechanisms, LaserStar Technologies, IPG Photonics, TRUMPF, Coherent, Directed Light, Laserline, Laservision, Cambridge Technology, Haas Laser Technologies and many more.
"I have gotten business out of LME that I probably would not otherwise have gotten," notes Ron Schaeffer, CEO of PhotoMachining in Pelham, N.H. "LIA makes things very easy as far as customer access. This is a very intimate conference — that is one of its benefits."
For the second year in a row, LME will be preceded by LIA's Lasers for Manufacturing Summit on April 25th at the Renaissance® Atlanta Waverly Hotel in Atlanta, Georgia. This event will again give executives an intensive introduction to what lasers can do in big-ticket industries. A panel of noted laser industry market experts will provide detailed views of various global laser markets and profit opportunities.
"We want to help executives by giving them an overview and a perspective about how lasers are affecting various manufacturing markets, then give them a top-level view of the major technologies and where they're being applied," Baker said. "The purpose is to help them plan to incorporate lasers in their production setup so they don't get left behind and remain competitive."
To learn more about LME and Lasers for Manufacturing Summit, visit www.laserevent.org and www.lia.org/lasersummit