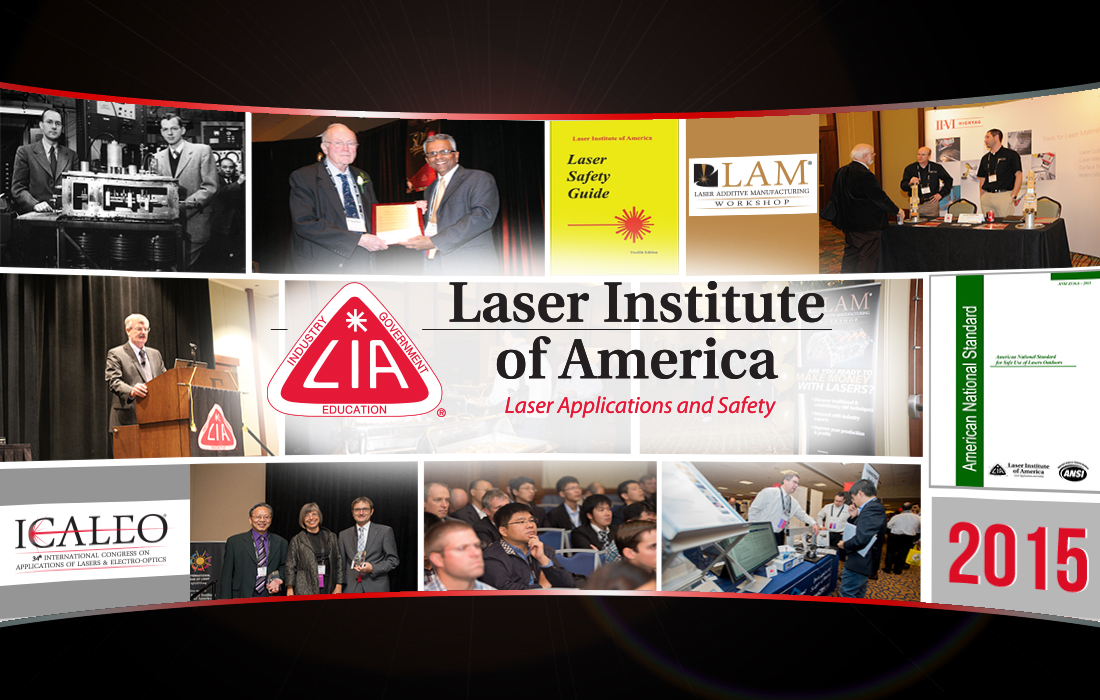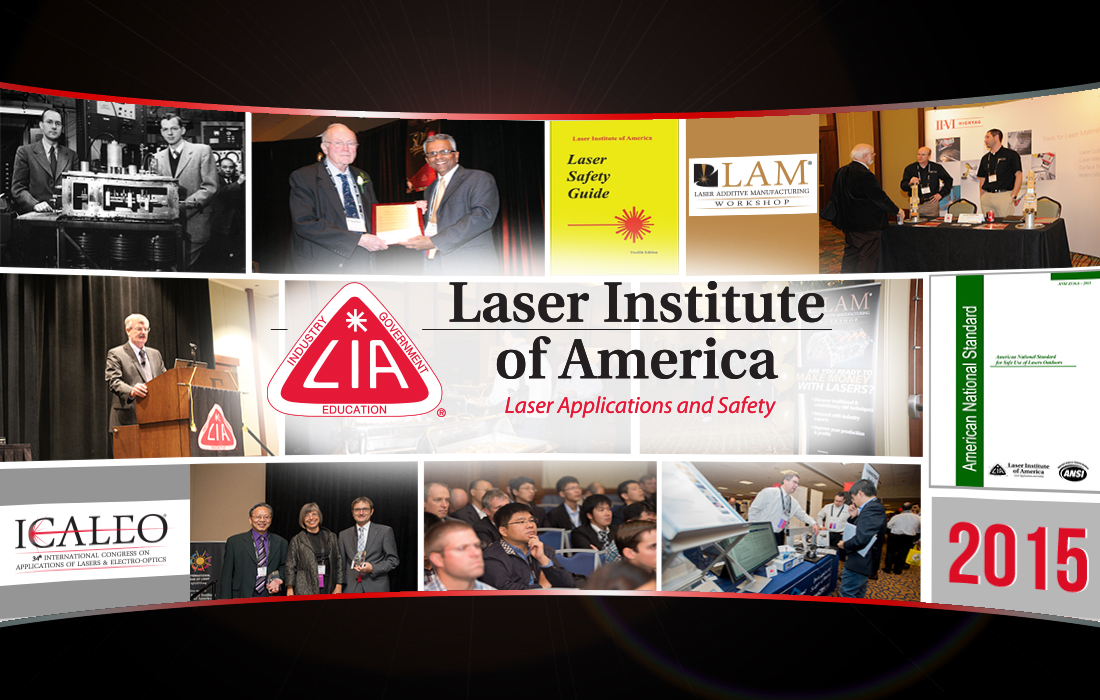 2015 was an exciting year for laser technology, and Laser Institute of America is proud to be part of the growth, innovation and recognition surrounding the field. The market for lasers worldwide remained steady, with an estimated 5 percent revenue growth for the year. Industrial lasers, specifically, had a projected revenue growth of 6.5 percent for the year. Fittingly, 2015 was designated by the United Nations as the International Year of Light, a decision made in 2013 to recognize "…the importance of raising global awareness about how light based technologies promote sustainable development and provide solutions to global challenges in energy, education, agriculture and health…" ("About the Year of Light" 2015 International Year of Light) The designation is a notable win for the laser, and other light based industries, worldwide. LIA served as a proud sponsor of IYL 2015.
LIA welcomed new officers and a new Board of Directors, in early 2015. LIA's 2015 officers were President Robert Thomas, President Elect Lin Li, Treasurer Stephen Capp, Secretary Paul Denney, and Immediate Past President Yongfeng Lu. The Board of Directors welcomed Lutz Aschke Ph.D, Neil Ball, Milan Brandt, Klaus Löffler, William O' Neill, Henrikki Pantsar, Nathaniel Quick, Michelle L. Stock Ph.D, Kunihiko Washio and Michael Woods.
The laser technology community unfortunately suffered the loss of Charles H. Townes, in January. Townes, with the help of his brother-in-law Arthur L. Schawlow, patented the "maser" comprised of microwaves amplified by the stimulated emission of radiation, years before the patent of the optical laser. Townes worked through his 99th year, receiving the Nobel Prize in Physics in 1964, and the LIA Lifetime Achievement Award in 2010, for his contributions to laser technology and related fields.
In an effort to continue fostering laser safety, LIA's Laser Safety Guide was updated in early 2015, for the first time since 2007. The new edition reflects changes made in the 2014 ANSI Z136.1. The guide serves as a quick read to help benefit anyone who uses lasers in the workplace, while also serving as a reference guide for those unfamiliar with the terminology and practices highlighted in the ANSI Z136 standards.
In March, LIA's Laser Additive Manufacturing (LAM®) Workshop was held in Orlando, FL for the first time in its seven-year history. The two day workshop focused on laser-based technologies in industrial applications, like 3D printing, cladding for wear and protection from corrosion. The event brought in over 200 attendees, half of which were first time attendees.
The International Laser Safety Conference (ILSC®) also took place in March, in Albuquerque, NM, bringing together over 200 laser professionals from all over the world. The conference focused on pressing issues in the laser industry, such as the unanticipated power of handheld lasers and the growing application of laser technology. ILSC hosted speakers from Sandia National Laboratories, University of Colorado, Metatech Corporation, Southwest Innovation Solutions and other laser industry entities. The use of handheld laser pointers to conduct laser strikes on-aircraft was among the concerns discussed by experts at the conference. Pointing lasers in the direction of the cockpit of an aircraft can cause dangerous distractions, and possible temporary blindness in pilots. Despite hefty consequences for offenders, nearly 4,000 incidents occur annually. Experts discussed potential solutions to the issue, such as better labeling for commercially sold lasers, and a focus on catching those responsible for the strikes, in the act.
October was a particularly important month for Laser Institute of America. The month kicked off with the long awaited pre-order of ANSI Z136.6 Safe Use of Lasers Outdoors standard. The standard was revised for 2015, for clarification and to "better reflect today's outdoor laser operator's needs." (Lasers Today, October 2015) The newly revised standard is necessary for anyone intending to use lasers in open-air environments, guiding users to utilize safe practices when operating outdoor laser systems. Updates to the revised standard include metric unit standardization, a complete rewrite to the Control Measures section and a clarification of FAA coordination requirements.
The 34th International Congress on Applications of Lasers & Electro-Optics (ICALEO®), took place Oct. 18–22, in Atlanta, GA. The conference had over 400 attendees from 22 countries, with over 200 presentations, invited papers and posters focusing on laser research and development. ICALEO hosted presentations on laser materials processing, laser microprocessing, nanomanufacturing and the newest addition, biomedical applications. During the conference, LIA awarded Dr. Keming Du with the 2015 Schawlow Award. Dr. Du has over 70 patents or patent applications and over 100 publications over the course of his career. Dr. Du also developed diode and solid-state lasers from 1985 through 2001. He went on to create EdgeWave, which offers solutions in compact diode-pumped solid state lasers.
The conference also featured speakers who touched on aspects of small business, with laser technology in mind. Ron Schaeffer, CEO of PhotoMachining wrote on the conference, "For a conference that is primarily "academic," this Business Forum is a very nice complement, as there are many small business owners/entrepreneurs and future small business owners/entrepreneurs in attendance." (Industrial Laser Solutions, October 2015)
2016 is sure to be another exciting year for the laser industry. LIA will be there every step of the way providing standards for laser safety and education, throughout the industry. For information on laser safety training courses and materials, please visit www.lia.org.