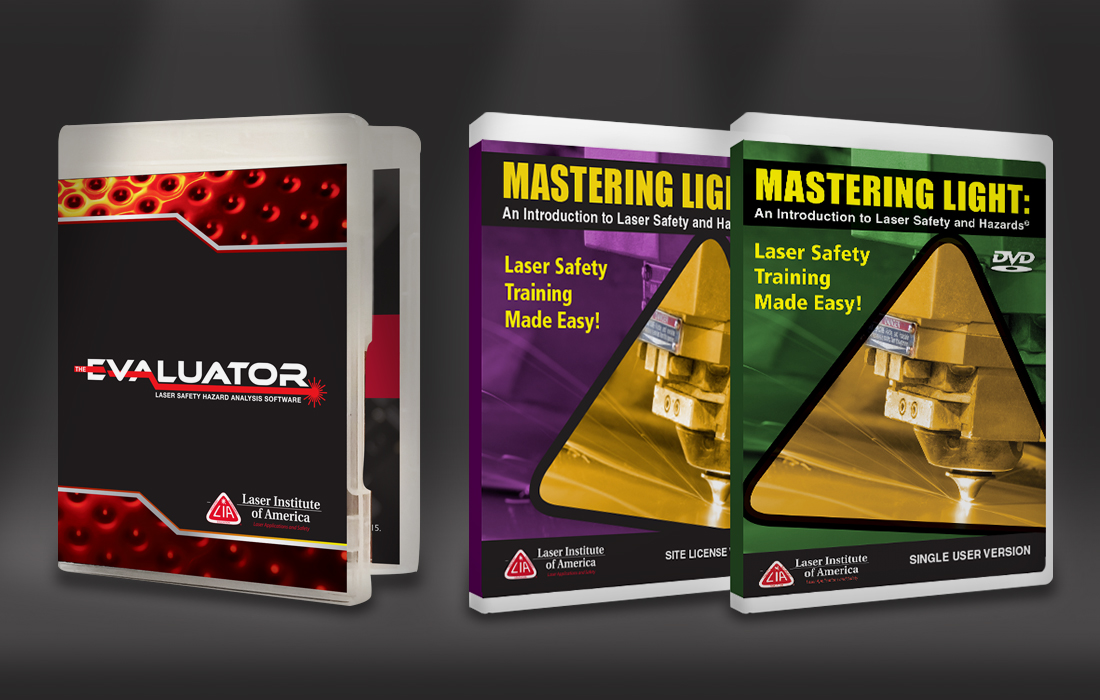 LIA's EVALUATOR & Mastering Light Receive Updates
By Jessica Dawkins
The number of laser end-users is flourishing, and businesses are continuously compelled to seek ways to implement efficient and cost-effective employee laser safety programs. In an effort to offer all Laser Safety Officers (LSOs) and their staff with the most dynamic, leading edge laser safety training tools available, Laser Institute of America (LIA) recently updated two of its most recognized educational laser safety offerings: The EVALUATOR and the Mastering Light: An Introduction to Laser Safety & Hazards DVD.
The EVALUATOR software, first released in 2010 as the world's first ever web-based Laser Safety Hazard Analysis System, is now available in an alternative, desktop version to allow for 24/7 offline access and unparalleled convenience. In addition, a revised 2016 version of the Mastering Light: An Introduction to Laser Safety & Hazards DVD contains integral new rules and regulations that will help laser users stay safe and abreast of regulations and requirements in the ever-changing, fast-paced arena of laser technology.
Desktop EVALUATOR Provides Critical Offline Access; Layout Similar to Advanced Web Version
Over the last six years, the web-based EVALUATOR has proven itself as an integral hazard analysis tool for both its ease of use and accurate results. In January 2016, to best meet current laser safety needs, LIA unveiled an alternative, desktop platform of the EVALUATOR, delivered on a USB drive. Users can download the program to their computer, thus eliminating the need for Internet access.
Similar to the web-based version, the Desktop EVALUATOR performs a number of repeated calculations based on the ANSI Z136.1-2014 American National Standard for Safe Use of Lasers, including: maximum permissible exposure (MPE), optical density (OD), nominal ocular hazard distance (NOHD), nominal hazard zone (NHZ) and laser hazard classification. It also offers effortless switching of laser settings between CW, single pulse or repetitively pulsed lasers, in addition to the adjusting of the beam profile (circular, elliptical or rectangular).
A simple layout allows users to input variables, including wavelength, energy/power, pulse width, PRF, focal length, limiting aperture and more, on the screen's left-side panel, while final output appears on the right-side panel. Intermediate calculations are also shown to further verify hand calculations. Values for MPE, NOHD, NHZ, OD, specular NHZ and diffuse NHZ are provided for both eye and skin.
Both versions of the EVALUATOR offer a clean, seamless user experience, assisting LSOs of all skill levels with the necessary task of completing safety calculations in the field.
Now, companies and their various users can choose the format that best meets their specific needs. The Desktop EVALUATOR is compatible with Windows 7, 8 or 10 PDF viewer, and resembles the advanced subscription level of the web-based version.
This new version will undoubtedly benefit military users; whose firewalls often restrict continuous access to online content. Now, calculations can be performed without the fear of losing a connection.
Users can print reports or save the information to a file for later review. A User Guide, located in the Help menu, provides an overview of the program, from an explanation of how to perform an evaluation to parameter descriptions and calculated results.
Revised 2016 Mastering Light DVD Keeps LSOs Current on Safety Requirements
Laser Safety Officers must be relentless in finding ways to train on safety, especially with the regular installation of new and updated safety requirements. For years, the Mastering Light: An Introduction to Laser Safety & Hazards DVD has provided LSOs with a training tool that is not only easy to administer, but also effective in properly training employees, researchers and students alike.
Just like LIA's 2009 version, the 2016 version of Mastering Light: An Introduction to Laser Safety & Hazards video fulfills both the ANSI Z136.1 Safe Use of Lasers and the Occupational Safety and Health Administration's (OSHA) laser safety requirements for employees who routinely work with, or could be exposed to, Class B or Class 4 laser radiation.
Video features include laser physics, classification of lasers by hazard potential, definition and duties of a Laser Safety Officer, beam and non-beam laser hazards, a clear explanation of labels and signs governing regulations, control measures, a discussion on fiber laser applications, the latest information on and footage of Class 1M and 2M military lasers, updated information about the agencies that regulate safety issues, and much more.
Like its predecessor, the new version will still outline the important safety rules and regulations employees must know in the field. The 2016 edition also includes brand new footage, updated information and provides trainees and current employees with the most up-to-date knowledge needed to successfully enter the world of laser safety.
In the new edition, LSOs can even test employees' understanding of video concepts and safety information with an accompanying quiz.
With each purchase of the 2016 version of Mastering Light, a DVD and a digital version are included. The digital version will be available for viewing anytime at www.lia.org, where it will appear under the user's downloads.
No matter whether you are a Laser Safety Officer looking for the latest in reliable, updated safety information for you and your team, or you are a company seeking the most comprehensive laser safety education available, the new EVALUATOR software and Mastering Light DVD are for you. Each purchase of the Desktop EVALUATOR and Mastering Light DVD contains a single-user license. The Desktop EVALUATOR's installation key expires 90 days from day of purchase. To purchase these laser safety training tools today, visit www.lia.org/store.