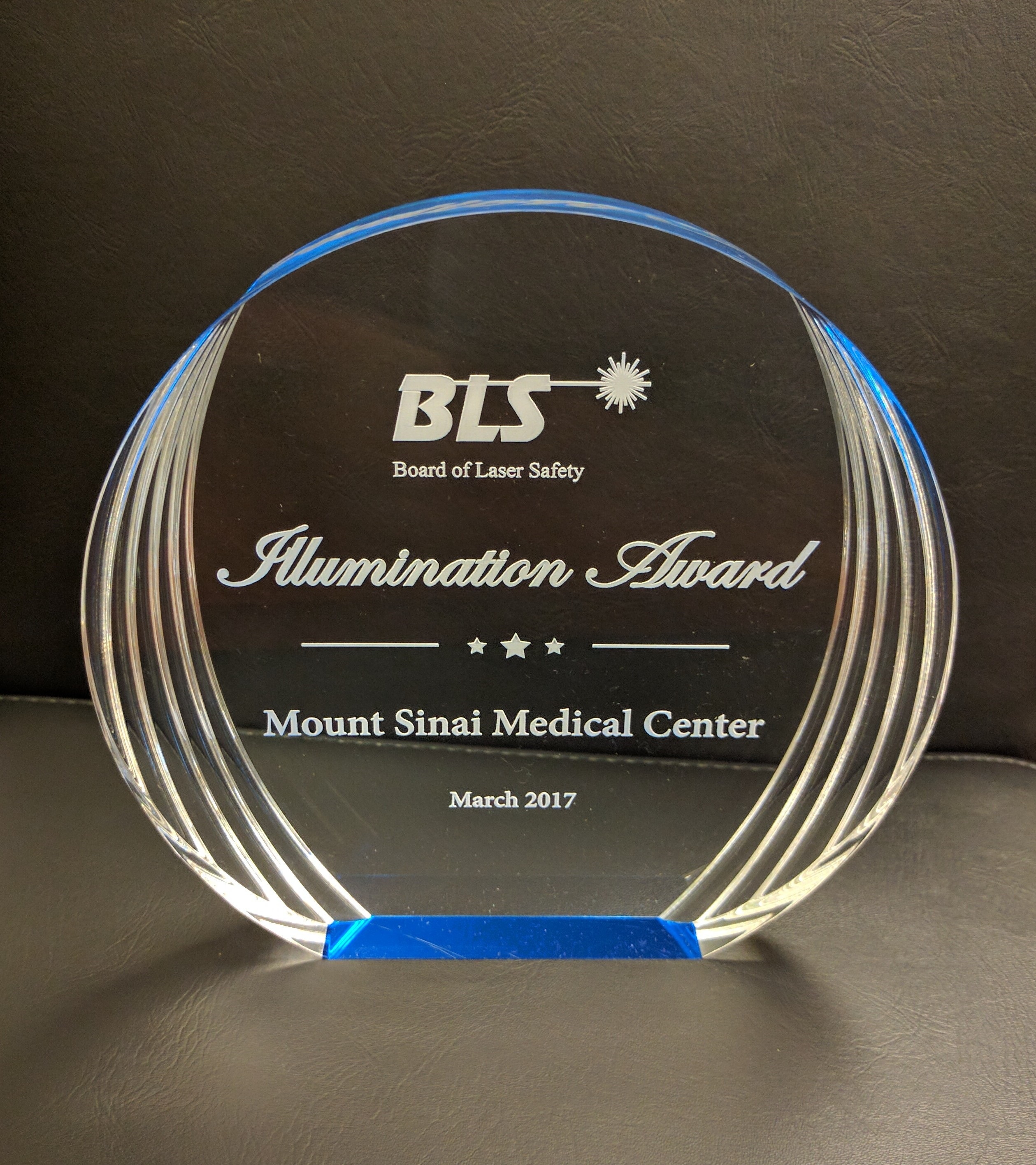 The new award recognizes an institution, company, or organization that directly employs a certified Laser Safety Officer & makes outstanding contributions to the laser safety community
ORLANDO, FL (PRWEB) MAY 11, 2017
The Board of Laser Safety (BLS) is proud to announce the first recipient of the BLS Illumination Award, Mount Sinai Health System. The award was presented at the BLS CLSO & CMLSO Appreciation Reception during the 2017 International Laser Safety Conference on March 20 at the Sheraton Atlanta Airport in Atlanta, GA.
Laser Institute of America's (LIA) International Laser Safety Conference (ILSC®), held biennially, gathers hundreds of laser safety professionals from around the world to discuss the latest topics in medical and industrial laser safety.
The BLS Illumination Award has been created to recognize an institution, company or organization that directly employs a certified laser safety officer and provides encouragement and support for employee participation within the laser safety community and/or has made outstanding contributions to the field of laser safety.
Jacob Kamen, who received the award at ILSC 2017 on behalf of his employer, Mount Sinai Health System, said it validates all the effort and energy Mount Sinai has put into its Laser Safety Program over the past 7 years.
"The Mount Sinai Health System is very proud to be a recipient of the BLS Illumination Award. This award validates Mount Sinai has been a significant supporter of laser safety education," Kamen said.
Partnering with Laser Institute of America to host New York City's first-ever LIA MLSO course in 2015, Mount Sinai Health System has advanced its education goal further. Mount Sinai was also the first institution to sponsor the BLS certified medical laser safety officer (CMLSO) examination in New York City. Presently, Mount Sinai boasts three CMLSOs on staff. The Laser Safety Program has recently expanded to 8 hospitals that incorporate the Mount Sinai Health System.
Additionally, Mount Sinai has supplemented their online training by creating multiple laser safety training courses covering a variety of clinical and research areas. These courses have been used by more than 5,000 staff members throughout the entire Mount Sinai Health System.
"Mount Sinai hopes that this award will provide encouragement for other hospitals to follow the path and create a safe laser environment for employee and patients," Kamen added.
Barbara Sams, Executive Director of BLS, says, "We were honored to be able to present the inaugural BLS Illumination Award to Mount Sinai at ILSC 2017. We feel it is important to recognize the employer who has the vision to see the significance of investing in its personnel and challenges its staff to seek knowledge through various channels of continuing education."
Due to its popularity and success at ILSC 2017, BLS is now calling on all CLSOs and CMLSOs who would like their employer to be considered for the next award. To nominate your company/employer, please review the criteria and download the Nomination and Supporter forms, complete with submission instructions, from the BLS website. Nominations can also be submitted directly to Barbara Sams, Executive Director, at bls(at)lasersafety.org.
The Board of Laser Safety (BLS) is a non-profit organization affiliated with Laser Institute of America (LIA) and dedicated to the improvement in the practice of laser safety by providing opportunities for the education, assessment and recognition of laser safety professionals. To learn more about BLS and their certification opportunities for medical and non-medical laser safety professionals, please visit http://www.lasersafety.org.
The Laser Institute of America (LIA) supports the BLS' mission by offering laser safety training for both LSOs and MLSOs. As the professional society for laser applications and safety, LIA is dedicated to serving the industrial, medical, research and government communities worldwide. For more information on the LIA, visit http://www.lia.org or call 1-800-34-LASER today.