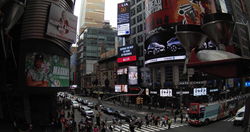 The Laser Institute of America (LIA), a professional not-for-profit society for laser education, innovation and commercialization, celebrates its 50th birthday in New York's Times Square today, ahead of its 37th landmark International Congress on Applications of Lasers and Electro-Optics (ICALEO) conference.
In celebration of its 50 years, LIA showed thanks to the support received from industry giants IPG Photonics, Coherent, Han's Lasers and TRUMPF, at the world-famous Thomson Reuters building in Times Square.
The digital screens displayed a prominent message for the commemorative occasion,
"On its 50th Anniversary, LIA would like to thank Coherent, Han's Laser, IPG Photonics and TRUMPF for its support."
Complimenting this message was a bold statement below, previewing the future of LIA and its strategy to shape the future of the photonics industry:
"Defining the next 50 years of photonics – LIA."
Celebrations Continue at ICALEO with Industry Partners
LIA will address the global photonics materials processing landscape at its 37th annual edition of ICALEO. Laser industry professionals from academic and industrial backgrounds will gather at the Rosen Centre Hotel in Orlando, FL, from October 14-18.
This year will see past presidents, board members and corporate members all in attendance celebrating LIA's 50th year, with many bringing memorabilia to celebrate the occasion.
"LIA's 50th birthday is a time for us to reflect on our great achievements and contributions in the growth of this industry over the years. It also marks a time for us to be innovative and pave the way to success together, over the next 50 years," commented Dr. Nathaniel Quick, Executive Director of LIA.
ICALEO annually draws international crowds of attendees and companies, showcasing and discussing the latest in photonics microprocessing, nanomanufacturing and materials processing. Prominent companies in attendance this year will include Beijing JCZ, Coherent, Edgewave, Han's Laser, IPG Photonics, SPI Lasers and TRUMPF.
Tickets are on sale until 18 October 2018.