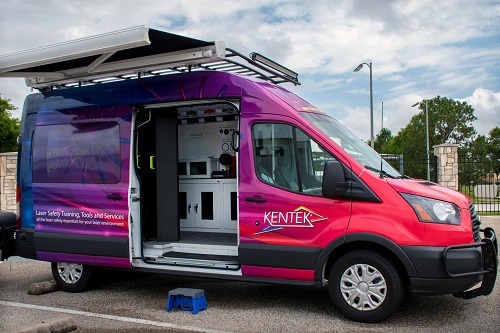 As we steer closer to the biennial International Laser Safety Conference (ILSC ®) , LIA took the time to sit down with Kentek's President Tom MacMullin to discuss
Kentek will be featuring its van (PHOTON1) at the upcoming International Laser Safety Conference in March, tell us about what attendees can expect to see and learn from its attendance?
PHOTON1 is a laser safety education platform that features Kentek products as demonstrations for how to achieve laser safety goals in industrial, university, and research environments.  The van Is a small-scale but fully operational laser laboratory.  A Class 1 safety enclosure houses a small laser to demonstrate power measurement and beam alignment tools. Nearby are examples of laser barriers with working options for entries and security. The lab is controlled by our Entry Guard™ laser interlock system. One goal of this setup is to show in real time how flexible and convenient laser safety systems can be if the end user takes time to plan for implementation of control devices and procedures. Above the optical table we display several dozen laser safety laser safety glasses. We teach visitors to PHOTON1 the basics of laser goggles and instruct in the selection of eyewear appropriate for each unique application. Our customers are encouraged to try out a variety of frame styles and learn that fit is almost as important as function: many laser accidents occur when laser eyewear is not worn.
Consumer electronic devices have been a key driver for the laser market, particularly with the growth of Laser Materials Processing. What industries do you believe will contribute the most growth to LSO training and certification in 2019?
We believe there is significant growth from two broad trends.  First, colleges and universities continue to invest in infrastructure for photonics research and education, including new and renovated laboratory spaces. Second, there is evident growth in laser-based manufacturing to support not only consumer electronic devices but also introduction of lasers to support traditional cutting, welding and drilling operations.  
We hear that research scientists claim that glass laser eye protection is preferred over polycarbonate eye protection when working with femtosecond lasers. Is this true?
For femtosecond and high-power laser installations, when laser goggles are required, Kentek recommends the use of mineral glass or certain coated glass products. In the event of an accidental "direct hit" or other serious exposure to laser radiation, the glass products have a greater overall damage threshold and should provide better protection than most of their polycarbonate cousins.
We caution all users to fully understand the power potential and wavelength characteristics of their lasers. The term "femto" is used loosely by many people, including experienced laser technicians. Also, asking Kentek for protection from a Ti-Sapphire or tunable laser is not specific enough. Similarly, customers will tell us they have a "fiber laser" or have frequency-doubled fiber laser. This could mean almost anything: common fiber lasers are operating at 1030nm, 1040nm, even around 1080nm. The corollary for the frequency-doubled output is energy that is not just green, and certainly not just at the familiar 532nm, but may be 526nm, or 520nm.
The point is that each application, each laser, must be reviewed independently. Kentek's presence at ILSC is to reinforce understanding that we have experience, knowledge and tools to solve the most complicated laser safety  problems.
Do you see the manufacturing industry that uses multi-kilowatt lasers looking for active barriers rather than standard steel barriers?
There is some call for active windows or active barriers, but we find most industrial customers seek solutions for reliably containing laser radiation with complete opaque enclosures/barriers or tightly controlled rooms.
As a Platinum Sponsor, what is Kentek looking forward to most during the International Laser Safety Conference in March?
Our goal is to maintain connections with our many customers and to learn of new or unmet challenges in the domain of laser safety.
Catch the Kentek team and their PHOTON1 van at ILSC in Kissimmee, FL. Not yet registered? Head on over to the official ILSC website to find out more.