A Guide for New Laser Safety Officers
By, Christopher Mordica, CLSO

Becoming an LSO
Being chosen to become a new LSO for your organization can be an exciting time, as it indicates a level confidence held by your employer that you are capable of taking on this new responsibility that grants you the authority and final say on all things related to laser safety, which let's not forget brings greater earning potential in terms of raises/promotions and also opens up new career paths where the only limit to your potential is set by how far you wish to take it. But as the old saying goes "with great power comes great responsibility" which is why it cannot be stressed enough that each LSO has both the duty and responsibility to ensure the safety of all personnel that work on or around high-powered lasers. And one of the most effective but challenging ways of doing this is creating and maintaining your own Laser Safety Program.
Within this article I aim at providing some of the very methods taken to establishing the program that I have today, and while not a complete list of everything that encompasses a laser safety program, having these basics will allow you to build a foundation to which the rest can be developed.
Developing an Inventory (Lasers Information)
Creating a simple yet robust inventory system will provide any new LSO with a proper foundation upon which their laser safety program can be built on. Based upon my own personal experience as a laser technician over the past decade I understood the importance of why an inventory was not only critical, but in my opinion serves as the very foundation of which any program should be developed based upon one simple rule "How can any LSO ensure the safety of their campus, if they do not understand the hazards present with each laser and where to find them"
The Table below shows only a small portion of what would later make up my site's laser inventory template. Understanding your lasers capabilities is incredibly important as it allows you the LSO to determine what hazards may be present at based upon things such as Wavelength, Class, Power etc.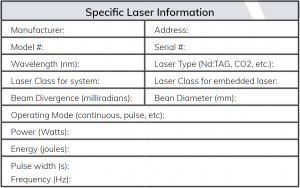 Performing Audits both Internal and External
Performing Audits for each laser system at your site whether Internal or External can help establish if there are any findings that violate ANSI Z136.1 Standards or OSHA safety regulations. And while understanding all standards and regulations can be a difficult task at times, it ultimately should be looked at as an opportunity to develop your own ability in spotting compliance issues. Such as warn out or incorrect labels and most importantly safety violations that present a direct risk of allowing both exposure and access to the hazard in question. As I stated before having a full understanding of all ANSI and OSHA regulations can take decades of training and practice to correctly implement, which is exactly why I personally reached out to Thomas Lieb, President and Founder of L*A*I – International, an independent company offering both engineering and consulting services to companies dealing with laser technology. After performing your audit if any findings come forth such as compliance or safety hazards it will be important to follow up with your site EH&S and create a risk assessment of which findings to tackle first, with safety of coarse taking priority above all else.
Example of an OSHA Violation found during an audit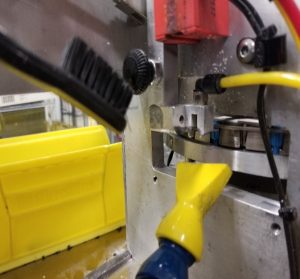 • OSHA Violation
–          While taking a closer look at the station it was found that there was a safety issue present that was previously unknown, the station has a very large opening along the direct beam path in which the beam can escape. The wavelength used by this laser is one that can be transmitted directly to the retina causing permeant blindness. It was later reviled that a cover for this section of the station did exist at one point but was scrapped due to an increased need to perform maintenance in a timely manner to get production running again.
NOTE: The final point to make for this section of why performing audits are critical, is because they can also uncover the history of the machine in question. As such can be seen with the example provided, where due to lack of knowledge and respect for laser safety resulted in the removal of physically guarding that was designed and intended to protect against both exposure and access of the known hazard present.
Affected vs. Authorized and knowing the difference
The last topic I will touch on is one related to training your Affected  vs. Authorized users and ultimately knowing the difference between the two. (Note: The definitions provided are unique to the authors site and are not defined in ANSI Z136.1)
Affected
Laser associates whom are trained on how to operate and run production in a Class 1 environment but who are NOT trained in performing maintenance on the system and Shall never operate the laser with guards or interlocks bypassed. *No PPE required*
Authorized
Laser associates whom are trained to perform routine preventive maintenance and or troubleshooting that may result in taking the laser from a class 1 environment to a class 3B or higher. Authorized associates Shall be trained in proper PPE use/handling prior to any work performed on said system. *PPE REQUIRED*
CONCLUSION
The industry of laser technology will continue to grow exponentially for years to come and will require more individuals that understand and can apply the standards correctly. And if my own journey of becoming an LSO/CLSO has taught me anything it would be that 1. Misinterpretation of standards is more common than not, and 2. That associate compliance to any program developed depends solely on the culture that is established by your organization through leading by example.
And finally, I will leave you with a quote that has always stuck with me through the years and at its core represents the very essence of why we all have become LSOs.
"an ounce of prevention is worth a pound of cure"
About the Author
Christopher Mordica was born and raised in Columbia MO and he started studying Photonics at the age of 16 in high school. He enrolled at Indian Hills Community College and achieved a diploma in Electronics/Computer Occupations, followed by an A.A.S Degree in Laser Electro Optics technology. He has been working in the medical manufacturing field for the last decade holding titles of Manufacturing Laser Technician I / II, Sr. Laser Manufacturing Support Technician / ILSO/ CLSO and is currently the Equipment Maintenance Supervisor / CLSO for Integer in Chaska MN, overseeing all 5 buildings on their campus. Recently Christopher has also joined both the ANSI Z136.9 and TSC-7 Subcommittees. He continually looks to improve the laser safety program at his site in the hopes that it can be used as an example for all other sites within the corporation. His goal now is to develop a training program for his alumni so that the future generation of techs can have a better understanding of what is expected and needed out in the field.
–
Source: https://issuu.com/marketlia/docs/lia_today_marapr_2020/19?fr=sNGQzYjEzMTY5ODA