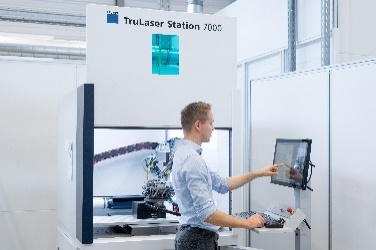 TRUMPF to exhibit automated arc welding, 3D laser welding, 3D laser marking, and additive manufacturing technology

FARMINGTON, Conn., July 6, 2022 – TRUMPF will show the latest in automated arc welding, 3D laser welding, 3D laser marking, and additive manufacturing technology at the 2022 IMTS show taking place September 12 to 17 at the McCormick Place in Chicago, Illinois. In booth 236217, TRUMPF will highlight the TruArc Weld 1000, an automated arc welding system designed for easy and affordable high-mix, low-volume production. The booth will also showcase laser technology for 3D processing, including the TruLaser Station 7000 fiber, a versatile, compact and fully-equipped low-investment 3D laser welding system, and a TruMarkStation 7000 with a TruMark 6030 marking laser for high-performance 3D laser marking.

TRUMPF will highlight laser 3D printing technology at a second exhibit in the Additive Manufacturing pavilion. In booth 433037, TRUMPF will feature the TruPrint Green Edition, a highly productive metal additive manufacturing laser machine designed for specialized applications, including the 3D printing of copper, copper alloys, gold and other precious metals. TRUMPF's Additive Manufacturing (AM) booth will also a virtual showroom for participants to take a deep dive into the variety of laser technology and AM applications offered by TRUMPF and to help determine the right equipment for different application and part requirements.

TruArc Weld 1000: Automated arc welding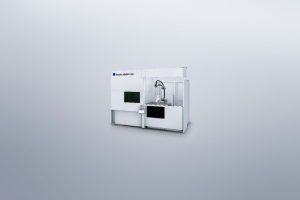 The TruArc Weld 1000, TRUMPF's automated arc welding system, makes it easy for fabricators to get started in automated welding. For affordable high-mix, low-volume production, the TruArc Weld 1000 is the perfect solution. A collaborative robot, or "cobot," makes it easy to program and weld in just minutes. Even first-time operators can program by simply guiding the cobot by hand. Programming is greatly simplified by the operating unit on the welding torch and factory settings for different materials and sheet thicknesses. Thanks to the rapid programming, fabricators have a cost-effective means of tackling short production and single-part runs. Overall, the TruArc Weld 1000 creates a process that is more efficient than manual welding and produces a high-quality weld seam.

TruLaser Station 7000 fiber: Cost-effective and versatile 3D laser welding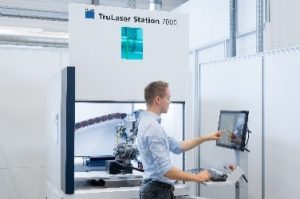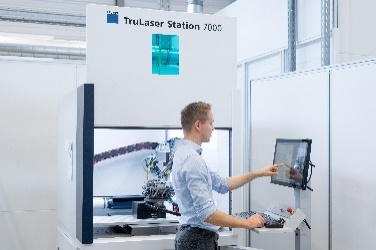 The TruLaser Station 7000 is a versatile, compact, and fully equipped low-investment 3D laser welding system. The higher power laser enables a broad range of applications. The TruLaser Station 7000 facilitates efficient and ergonomic 3D laser welding of small assemblies, such as sensors, rotationally symmetrical components, and medical devices. The large work area also makes it possible to integrate fixtures and process larger components in a small installation area. Fully integrated image processing ensures reliable weld seam positioning.

TruMarkStation 7000 with TruMark 6030: high-performance 3D laser marking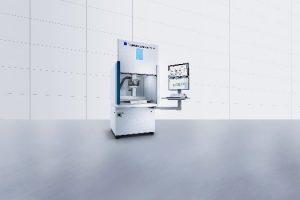 TRUMPF will demonstrate laser marking of 3D metal printed parts with a TruMark Station 7000 laser marking station that features a TruMark 6030 marking laser and VisionLine 3 feature recognition capability. The TruMark 6030 is a high-performance marking laser with 3D functionality. The laser's outstanding beam quality and high power densities ensure clean material removal and high-contrast markings. The TruMark 6030 can be integrated into production systems quickly and easily.

TruPrint Green Edition: highly productive 3D printing of copper, copper alloys and precious metal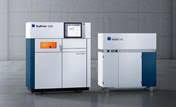 In the Additive Manufacturing pavilion, TRUMPF will show the TruPrint Green Edition, a highly productive metal additive manufacturing laser machine designed for specialized applications including the 3D printing of copper, copper alloys, gold and other precious metals. With a wavelength of 515 nm, the TruDisk 1020 green laser makes it possible to 3D print highly reflective materials such as copper, which can be extremely difficult or impossible to process with infrared wavelengths. The TruPrint Green Edition can also manufacture parts made of copper alloys such as CuCr1Zr with a larger process window and higher productivity than traditional infrared laser metal fusion laser systems. TRUMPF's Additive Manufacturing (AM) booth #433037 will also feature a virtual showroom for participants to take a deep dive into the AM products offered by TRUMPF and help to determine the right equipment for different application and part requirements. In addition, TRUMPF will display parts that demonstrate their laser metal deposition (LMD) and laser metal fusion (LMF) applications for the aerospace, space, medical industries.
About TRUMPF
TRUMPF is a high-tech company offering manufacturing solutions in the fields of machine tools and laser technology. The company drives digital connectivity in the manufacturing through consulting, platform products and software. TRUMPF is a technology and market leader in highly versatile machine tools for sheet metal processing and in the field of industrial lasers. In 2020/21, the company employed 15,000 people and generated sales of about $4.2 billion. With over 80 subsidiaries, the TRUMPF Group is represented in nearly every European country as well as in North America, South America and Asia. The company has production facilities in Germany, France, the United Kingdom, Italy, Austria, Switzerland, Poland, the Czech Republic, the United States, Mexico and China. Find out more about TRUMPF at www.trumpf.com
Press contact:
Catherine Flynn, APR
Public Relations & Communications Specialist
860 255-6518
TRUMPF Inc.
3 Johnson Ave. Farmington, CT 06032