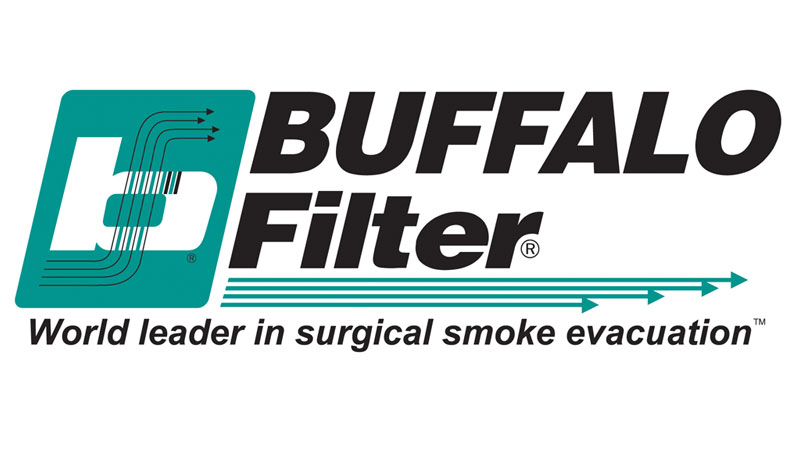 A market leader, Buffalo Filter LLC, located in Lancaster, NY, produces technologies and solutions that are used to manage the hazards associated with surgical plume inhalation. Dedicated to eliminating the plumes, which contain harmful gases, respirable particles and biological matter that can transfer disease, Buffalo Filter works diligently to protect the individuals who care for others in surgical settings.
Though now a wholly-owned business unit of the Texas-based Filtration Group, Buffalo Filter originally began in 1991 as a small, privately-owned company in Buffalo, NY, manufacturing its own brand of filters and smoke evacuation systems. When the Filtration Group acquired the company in 2013, Buffalo Filter joined the Group's Life Sciences division. Since then, the company has continued to build upon its leadership role with the manufacture of hundreds of OEM, private label and co-labeled products. Along with this work, Buffalo Filter continues to provide the industry with its own brand of technologically-advanced evacuation equipment, filters and accessories, which are utilized in a wide range of medical specialties.
At the time of its inception, the small company was run by two engineers who originally made filters for the automotive industry. When Christopher Palmerton acquired the company in 1995, Buffalo Filter altered its course, beginning the manufacture of filters that eliminated the hazards medical professionals face in the field. Ever since, Buffalo Filter's mission has been to ensure that healthcare workers across the globe remain safe amidst the dangers of surgical smoke. With a cancer-causing potency six times greater than that of a cigarette, surgical smoke has the ability to transmit bacteria and viruses and contains respirable particles that worsen respiratory ailments.
To protect medical professionals, Buffalo Filter provides the industry with numerous safety-related products for the operating environment, including: surgical smoke plume management systems, laparoscopic warming and defogging lens devices and electrosurgical accessories. In addition to its main work in the innovation and development of surgical smoke plume management devices and accessories, Buffalo Filter is also known for providing education about the harmful plumes and programs that aid organizations in the management of all aspects related to its exposure.
As awareness of surgical smoke plume hazards has grown in the past five years, more facilities have taken action to ensure the management of the plumes. When those facilities seek answers, Buffalo Filter continually responds by producing innovative solutions that meet the complex needs of each operating specialty. By doing so, the company has matched the delicate and precise nature of surgery with products that enhance, rather than inhibit, a surgical team's ability to perform their work. Recognizing the differences in each operating environment, Buffalo Filter supplies the industry with specialized solutions by studying each environment's needs and responding carefully and effectively to ensure the safety of the individuals in the field. Continuously working to improve solutions, Buffalo Filter has offered between two and three new innovations in the operating room safety and smoke evacuation space each year. The company will continue this tradition in early 2017 with the release of new products.
A member of Laser Institute of America (LIA) since 2006, Buffalo Filter strongly relates to the organization, as both entities remain dedicated to safety. Helping individuals avoid the long-term effects of surgical plume exposure is a source of pride for Buffalo Filter, and the company is proud to join LIA in meeting its safety goals in the field.
For more information, visit www.buffalofilter.com.