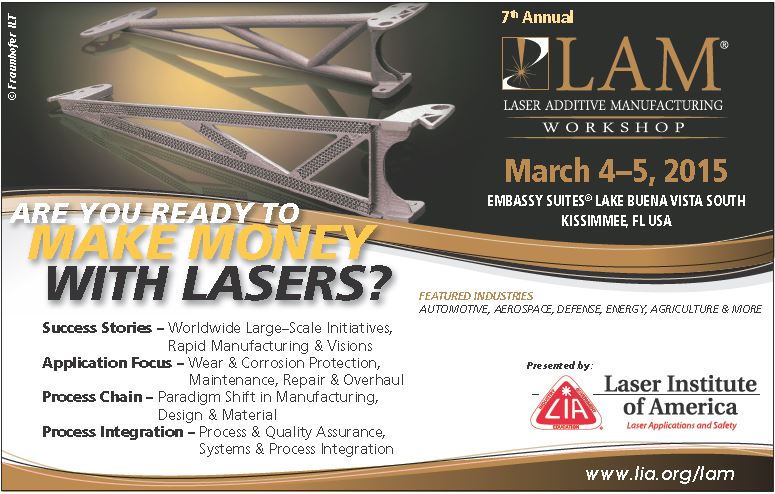 BY GEOFF GIORDANO
With more new workshops than ever purporting to give a true perspective on 3D printing and additive manufacturing, the Laser Institute of America's Laser Additive Manufacturing (LAM®) Workshop has been ahead of the curve when it comes to realistic assessments of revolutionary industrial applications.
In its seventh year, LAM 2015 will again provide an intensive two-day immersion in the full spectrum of laser-based industrial additive applications — from traditional corrosion and wear protection and repair to the more hype-worthy powder-bed and powder-fed methods.
For the first time, LAM will not be held in the power-generation hub of Houston but in LIA's hometown of Orlando, on Mar. 4-5 at the Embassy Suites Orlando – Lake Buena Vista South (Orlando, FL). LIA is a key part of the Florida High-Tech Corridor and the state's photonics community, which includes the nearby College of Optics and Photonics at the University of Central Florida.
For first-time General Chair Dr. Ingomar Kelbassa, achieving the full effectiveness of 3D printing applications is predicated to no small extent on sound vertical and horizontal process chains. Amid the swirl of events and presentations at ICALEO 2014 (see story, page 16) in San Diego in October, Kelbassa and his team were already putting in place the key elements of the education track for LAM 2015.
Taking LAM Forward
LAM "initially started as a workshop for just cladding for wear and corrosion protection," says Kelbassa, an adjunct professor at Australia's RMIT University, vice director at the Chair for Laser Technology LLT, RWTH Aachen University, department head at the Fraunhofer Institute for Laser Technology, and a member of the Fraunhofer ILT team that won an Aviation Week innovation award in 2012 for producing an additively manufactured BLISK (blade-integrated disk) in about 160 minutes — or, two minutes per blade. "That's why it has taken place in Houston — for offshore applications, mining, gas, oil, etc. Now we have developed and improved from, say, 2D cladding to 2.5D cladding through to 3D cladding and layerby- layer buildup of structures as well as all the developments and improvements in the powder-bed processes, (also known as) selective laser melting (SLM)."
In keeping with prior LAM education tracks, LAM 2015 will feature an overarching theme each day: process chain and process integration on day one and real-world success stories on day two.
"Primarily, LAM was, is and will be, a workshop that is industry driven," Kelbassa asserts. "Therefore, the majority of the presentations will be on success stories from OEMs as well as from a service provider's perspective — highlighting industrially implemented AM chains in the aeronautics, power generation, offshore, mining, oil, automotive and tool, die and mold-making fields."
Day one is scheduled to feature four sessions with three presentations each addressing the paradigm shift in manufacturing – along the horizontal and vertical AM process chain; design and material; process and quality assurance; and systems and process integration.
Because additive manufacture is not just one process step — it's one step out of many steps: from raw material and design through additive manufacture and proceeding through all the steps down to the adaptive finishing operations so you have your finished end products."
"We will also address the vertical process chain, which is more or less the supply chain for the additive manufacturing process step itself. That means CAD/CAM algorithms for SLM/LMD (laser material deposition), the powders for that, AM-tailored powders, quality assurance by process monitoring and control and, of course, process integration."
Kelbassa is quick to note that "the entire process chain right now does not exist. Everything out there, including the supply chains, is mainly, at the moment, mostly for subtractive manufacture — material removal, (be it) five-axis milling, grinding, whatever. AM must be considered holistically" to succeed.
On day two, he continues, LAM 2015 "will feature a more industrially driven telling of success stories in different markets and fields of applications. So that means, for instance, wear and corrosion protection for the automotive industry, aerospace, power generation — flying and nonflying gas turbines — as well as rapid manufacture."
As with day one, day two's education track will feature four three-presentation sessions covering worldwide large-scale AM initiatives; wear and corrosion protection; maintenance, repair and overhaul; and rapid manufacture and visions. "I call it 'visions' because hopefully (we will have a talk) on rapid manufacture of organic materials: not metals or ceramics, but depositing living cells. In the end, the vision is to print out 'spare parts' for human beings — organs."
Hype-Free Zone
While industrial additive manufacturing might be confusedly lumped in with the broad spectrum of emerging 3D printing options — particularly vis-à-vis the cheaper personal-style systems that turn out plastic trinkets — achieving a global perspective on real LAM growth is challenging. That's where LAM fills a significant need, Kelbassa says:
"At the moment, AM is a niche. But it will be growing. It will not entirely replace subtractive manufacture; it can't. But in the end there will be a larger divergence (in applications) and also larger technology transfer in different fields of applications. Where we come from now is (using AM for) high-value components (for) aerospace, power generation, automotive, highly complex parts for tool, die and mold making, and highly individual parts for mass customization — mainly in medicine such as for (dental) implants etc."
For those following trends in AM, Kelbassa notes, "it doesn't matter if we produce one part or 10 million parts, the cost per part remains the same. That means that everything that has to do with mass customization should be very easily addressable by laser AM technologies and processes."
Further, AM affords "the opportunity to design new lightweight structures and combine lightweight structures with lightweight materials. These kinds of lattice structures (result in parts with) a weight of 50 percent less, 60 percent less, but with the same structural integrity (and) the same mechanical properties. That opens new horizons; you can think about a part lasting, instead of 1,000 cycles, maybe 5,000 or 10,000 cycles. You do not have to repair it because there is no need."
That increase in product life cycle "can't be addressed by any production in conventional manners." "Growing" LAM, so to speak, will depend on several factors.
"The question is always availability of things," Kelbassa says. "That means availability of powder additives and new CAD/CAM algorithms. These will be available if the OEMs are seen sharing their own business cases." Sharing those cases, in turn, will improve the attractiveness and visibility of AM.
AM "also depends on the availability and existence of standards, and these are not out there at the moment."
While LAM 2015 will again provide as much global perspective as possible on AM initiatives and funding by various nations, it's no secret that Europe is ahead of the curve in making real parts, he notes; and, just because a country commits millions of dollars to pursuing additive manufacture by acquiring machines and systems "does not mean you have also acquired the knowhow to work with these machines and systems."
Strong Speakers
Scheduled to open the proceedings is keynote presenter Christoph Leyens of Fraunhofer IWS. "He will be addressing what Fraunhofer always addresses: how we come from the lab to industrial applications and what we call digital photonic production — coming directly from the CAD data via the laser light to the metal, to the component we build up," Kelbassa explains. "Hopefully, he will also be addressing the deficits of the technology today — because we are also far away in terms of system integration and (matching the output of) five-axis milling machines."
With the reproducibility of AM-produced parts a challenge, "deficits are always useful and necessary to talk about: How do you improve and develop a technology further if you do not know what to do? There's a hype out there about 3D printing: Everybody thinks you can do everything with it, and that's not true."
Also slated to present are:
James Sears, GE Global Research: GE's Approach to AM
Daniel Schraknepper, Fraunhofer IPT: Process Integration and Adaptive Finish Machining
Jannis Kranz, LZN: Functional and Lightweight Design
Satyajeet Sharma, Oerlikon Metco: Tailoring Powders for Additive Manufacturing
Thomas Schopphoven, Fraunhofer ILT: Ultra-High Speed Laser Material Deposition
Max Schniedenharn, Fraunhofer ILT: High-Speed Selective Laser Melting
Milan Brandt, RMIT Centre for Additive Manufacturing
Kelbassa is also aiming to include sessions on the additive manufacture of automotive and jet parts, as well as discourses on LMD in a controlled atmosphere, LMD systems and direct metal laser sintering systems.
Of course, with all these experts in the room, LIA will ensure a chance to network more closely by scheduling an Exhibitor Reception starting at 5 pm on Mar. 4. Attendees new and old will have a chance to ask their most pressing questions of some of the most experienced laser-industry professionals, including LAM Co-Chairs Sears and Paul Denney of Lincoln Electric — both of whom are past chairs of LAM. Alabama Laser will once again serve as platinum sponsor of the Workshop. Other sponsors this year include: Cambridge Technology, Inc.; DM3D Technology, LLC; Fraunhofer USA, CCL; IPG Photonics Corporation; JK Lasers; Joining Technologies, Inc.; Laserline Inc.; LPW Technology; Oerlikon Metco; Optomec; Tribocor Technologies, Inc and TRUMPF Inc. A complete list of LAM 2015 Exhibitors can be found on the LAM website.
To stay updated on the educational track or to register, visit www.lia.org/lam.