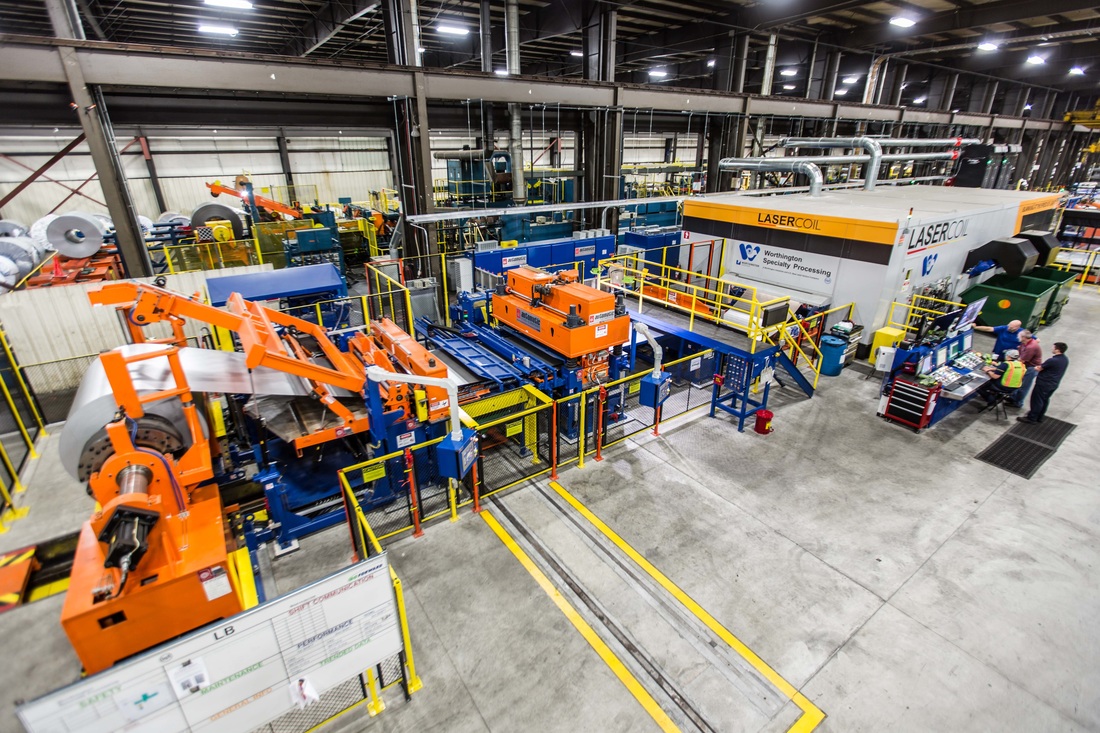 LaserCoil Technologies LLC, based in Napoleon, Ohio, launched in 2011 with a new approach to laser blanking from coil stock. The innovative technology went through over three years of developmental research and planning at the Automatic Feed Company (AFCO), an organization known for pressroom automation with nearly 65-years of manufacturing expertise focused on metal blanking.
The company received its first order in 2013 and soon thereafter established its 12,000-sq. ft. technical center. The center houses a coil-fed laser blanking system, which can handle 30-ton coils and serves as the technical development center for the company. It is also capable of running prototype parts and low volume production.
Lasers provide an excellent solution to the difficulties faced when stamping high-strength steels. Laser blanking eliminates both the potential need for a larger press to cut high strength materials and the edge fracturing problems that often occur when working with lightweight materials. The company also uses lasers because they do not wear down like other production tools.
Their first product on the market was the LaserCoil coil-fed, single-head laser cutting system which featured patented technologies that enabled laser cutting of blanks direct from coil in aluminum, steel and other sensitive materials.
Today, they offer both single- and multi- head laser blanking systems with automated LaserCoil CAM™ software, the company's automated programming software to guide users with nesting, cutting and recipe management. Their high-tech machines yield rates that make laser-cutting blanks a feasible alternative to traditional stamping.
"We've achieved real-world results that prove the value of this first LaserCoil CAM release," said Scott Sonnenberg, LaserCoil director of mechanical engineering/product development. "This software provides our customers a single interface to help reduce programming time and scrap rates, as well as improve their throughput and yield."
LaserCoil CAM was created to enable less experienced system operators the ability to quickly create an optimized program. LaserCoil CAM starts by importing the user's blank profile CAD file. Then, the user can have the software to select the best coil from multiple coils in inventory, create the best nest for a specific coil width, or permit the program to specify the optimum coil width based upon part yield.
"Creating nesting and cutting programs is a time-intensive process requiring a skilled technician," said LaserCoil Chief Technology Officer Jay Finn. "LaserCoil CAM takes only minutes from the importing of CAD files to active cutting of a simple blank. To illustrate its efficiency, imagine if you could design and machine a blanking die for a complex part in less than 30 minutes, rather than months."
LaserCoil Technologies, an LIA corporate member, is motivated to continue developing innovative features for the Laser Blanking process. They have developed a flexible tool in the blanking market that can begin producing blanks within minutes. Because of programing and the ability to operate the line in several different modes, it can offer solutions to new manufacturing challenges.
For more information, visit: www.lasercoil.com
---
This Corporate Member Feature was written by Brandon Kalloo in collaboration with LaserCoil.